Zbigniew "Zig" Resiak

Zbigniew "Zig" Resiak
Utility Manager – Water & Wastewater
American States Utility Services
Eglin Air Force Base
Read How Zig transitioned into the water industry and why he thinks he has the greatest job in the world.
Overview:
On Oct 1, 2016, Zbigniew "Zig" Resiak assumed the duty of Utility Manager American States Utility Service, Inc. at Eglin Air Force Base, Florida, the home of the Air Force 96th Test Wing, along with other commands including: the Air Force 33rd Fighter Wing, Navy EOD School, 7th Special Forces, 6th Army Ranger Training Battalion, and Air Force Directorate (among others). Eglin is the largest Air Force Base in the world, covering over 724 square miles. Zig is responsible for managing a 50-year Utility Privatization contract valued at over $800 million.
Background:
I am the youngest son of Polish immigrants who relocated to the United States after World War II. I joined the Navy immediately after graduating from high school and served from 1979-1988. In May 1997, I suffered a career-ending injury at sea. After 11 months of surgery and physical therapy, I transitioned to civilian life.
Transition and Job Search:
Transitioning from the Navy to civilian life was difficult as my NEC/MOS as a Navy First Class Gunner's Mate Guns (GMG1/E6) and small arms instructor presented limited job opportunities and my disabled status presented additional challenges. The labor market was constricted, my Navy NEC didn't translate well to civilian job categories, and my lack of trade school and college education limited my employment options for anything above minimum wage. With a wife and two small children depending on my ability to provide for the family, I enrolled at Purdue University (North Central), and took night classes for 5 years while working full-time during the day.
I first entered the water/wastewater sector through a summer internship opportunity with a Civil Engineering Consulting firm in South Bend, IN – Lawson Fisher Associates – nearly a year after my discharge from the Navy.
Current Employer and Position:
I am now a Utility Manager for American States Utility Services, Inc. (ASUS), a subsidiary of American States Water Company (ASW), a publicly traded company. ASUS provides operations, maintenance, and construction management services for water distribution, wastewater collection, and treatment facilities located on military bases throughout the country under 50-year privatization contracts with the U.S. government. I have the honor to perform those duties at Eglin AFB in Northwest Florida, and manage 50 water, wastewater, construction, GIS, administrative, and supervisory personnel. We are responsible for 14 public water systems, 150 miles of water mains, 110 wells, 11,000 fire hydrants, 76 miles of sewer, 150 lift stations, and 140,000 manholes at the largest Air Force Base supporting a total population of +/- 71,000.
As you might expect, managing the water and wastewater system for a sprawling community of 71,000 has many challenges. Adding the operations tempo of the Air Force into the mix raises the bar several notches. Although my many years in public works and consulting professions helped prepare me for this role, it is my military background that affords me the ability and insight to assess and adjust shifting client priorities at Eglin.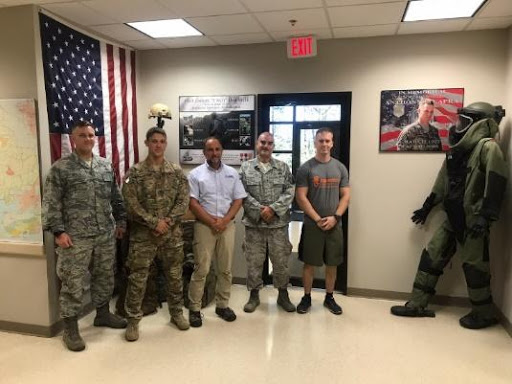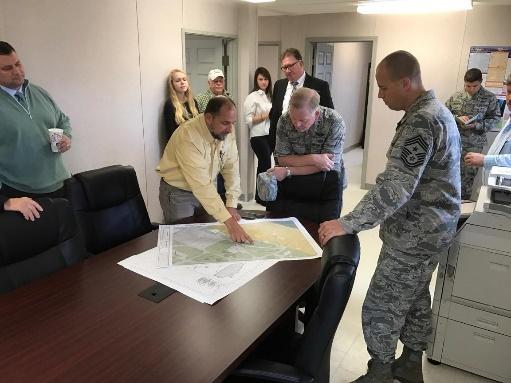 Advice for Veterans and Transitioning Service Members:
If you are transitioning from the military to the civilian workforce, know that the operation tempo is very different.
Ask your potential employer if they offer mentorship programs within the organization. This is huge. The things we took for granted in the military, such as military structure (as in pay grades and MOS/NEC), healthcare, insurance, etc., are different in the civilian world. A mentor will afford you the opportunity to ask questions and a lifeline until you understand the new corporate structure. If the company does not have a mentorship program, there are other organizations, such as AWWA, WEF, Chamber of Commerce, Universities and the Society of American Military Engineers (SAME) that do.
Lastly, the water, wastewater, and utility industry will afford you a sense of mission, camaraderie, excitement, professionalism, and purpose exhibited in the military. Personally, I have the greatest job in the world. I have the opportunity to continue to serve my country and the greatest fighting force, their families, and community.
Connect to Veterans in the Water Sector like Zig by filling out and submitting the form below. We will contact you and connect you to liaisons in your area who can give you advice, introduce you to other contacts, and point you to job and training opportunities.
Connect with Veteran Liaisons in Your Area
Fill in the form below and we will contact you soon.