Water Treatment Specialists compete in the "Super Bowl" of water purification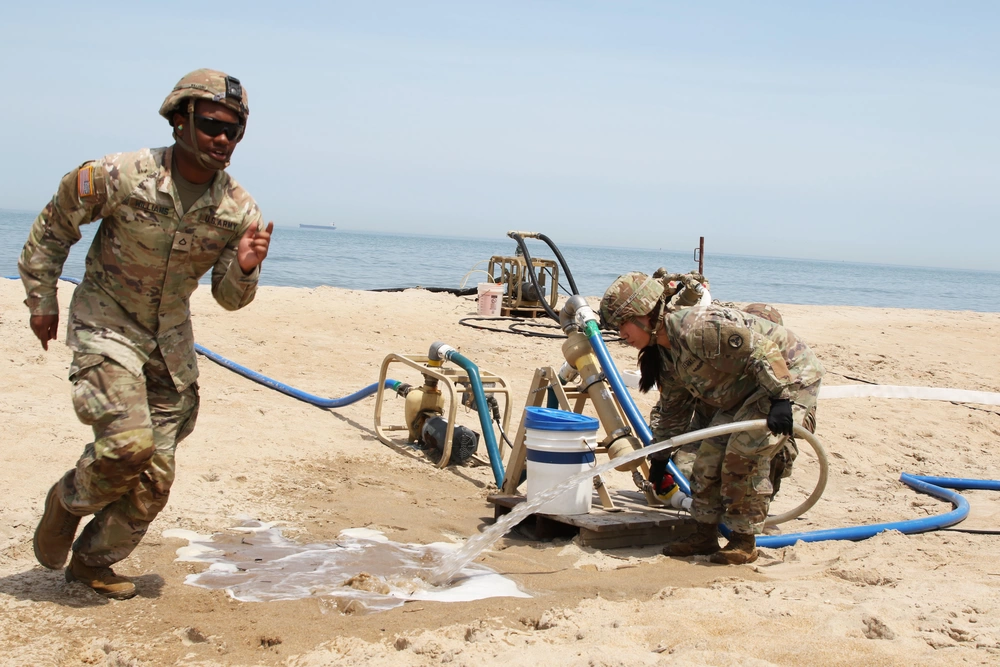 FORT STORY, Va. – It was no day at the beach for the teams of military water treatment specialists competing against each other in this year's Reverse Osmosis Water Purification Rodeo from May 8-12, 2023, as the five day U.S. Army Forces Command (FORSCOM) competition tested their skills and readiness under the watchful guidance of U.S. Army Reserve instructors from the 94th Training Division – Force Sustainment, who served as evaluators and support staff for the ROWPU Rodeo, along with civilian FORSCOM instructors. The 94th is part of the 80th Training Command (The Army School System) and this year's competitive teams included Active Duty U.S. Army Soldiers and U.S. Marines, with water support technicians from Marine Wing Support Squadron (MWSS) 172 taking home the overall top prize, as well as being named "Most Motivated." Brig. Gen. Patricia Wallace, the 80th's Commanding General, was on-hand at the culminating awards banquet to congratulate all the participants and give out the top trophy.
Evaluators not only scored the competitors on their ability to set-up, operate, and break-down different types of water purification machines during timed scenarios, they also tested teams on their collective knowledge via a written exam and awarded points to teams based on their enthusiasm and commitment throughout the event. Competitors showed off their expertise on three different types of equipment: the Lightweight Water Purifier (LWP), the Tactical Water Purification System (TWPS), and of course, the Reverse Osmosis Water Purification Unit (ROWPU). The LWP uses state-of-the art ultra filtration and reverse osmosis technology to produce 75-125 gallons of potable water per hour and is deployed with small units, Special Operations Forces, and temporary medical facilities. The TWPS is capable of supplying 1500 gallons per hour of potable water to support Theater, Division and Brigade units during ground, amphibious, airmobile, and airborne operations. Its cutting edge micro-filtration system can purify water from any source, including fresh water, sea water, brackish water and even water contaminated with nuclear, biological, or chemical agents. And the ROWPU can quickly and flexibly supply 3000 gallons per hour of potable drinking water in virtually any conceivable situation, operated by Quartermaster Water Units at Theater and Corps level and capable of supporting military operations, as well as humanitarian and disaster relief efforts anywhere in the world.
Each distinctive piece of equipment is an invaluable tool in ensuring that America's military has the ability to swiftly and efficiently deliver clean, fresh water under even the most strenuous circumstances and this year's ROWPU Rodeo not only gave troops the chance to get hands-on experience with the equipment, it also tested their skills in field-like conditions, allowing competitors and evaluators alike to gain new and useful insights into their profession. "The training value is really good here," explained Sgt. 1st Class Cody Morgan, an evaluator and instructor with the 94th Training Division. "Most of the places we train, we don't get to train on saltwater, so it was nice to come here… it's a really good environment, the training is something special here. And then, any time you can work together with your team and improve your skills, I think it's definitely worth doing."
Sgt. 1st Class Rey Alvarez, also an evaluator and instructor with the 94th, agreed that events like the ROWPU Rodeo can be an important part of maintaining and improving skills, especially when it comes to something as essential as water purification. "It's very crucial for support," said Alvarez. "Water is the lifleline for everybody. It's needed throughout the Army for chow, for medical support, for laundry and bath, for drinking, for consumption, everything across the board. Everybody needs water."
Morgan stressed the overall benefit of taking part in the annual competition, noting that the ROWPU Rodeo wasn't just good for training, it was also good fun. "To me, I think the competition is like the Super Bowl of water purification," he said. "It's a big challenge. You get to come here as a team to show how good you are and show off all your work that you've put in and have it displayed in front of instructors and peers."
Echoing his colleague, Alvarez pointed out that while everyone who competed in the ROWPU Rodeo was among the best, excelling in the competition meant winning an impressive trophy and being recognized as a true leader in the field of water purification. "It brings together the best of the best, from Army and Marines, to come together as a team," said Alvarez. "And it's really good to see whose skills are top notch in this field, understanding, 'hey, we're here to compete and win that big trophy.' That's the fun part: there's a big trophy at the end."
Original Link: https://www.dvidshub.net/image/7810685/water-treatment-specialists-compete-super-bowl-water-purification